---
<< Conference Update >>
The registration deadline for the conference is approaching. Those who wish to participate are recommended to register as soon as possible.
Deadline for main conference and reception: August 23, 2019 23:59 (JST)
Deadline for workshops and other events: September 6, 2019 23:59 (JST)
There are multiple events during the conference and tourist attractions in Hamamatsu. Please click on the links below to register for the event of your interest and to enjoy your trip.
---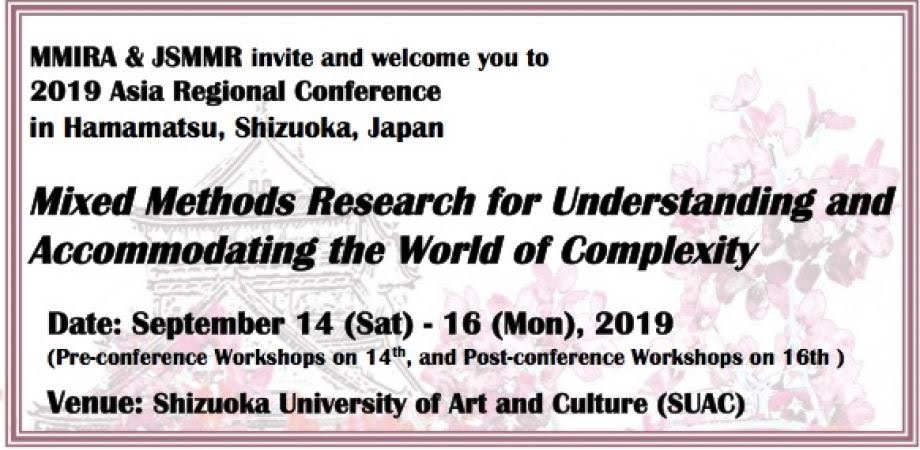 This conference focuses on Mixed Methods Research (MMR), which is a hybrid of quantitative and qualitative research approaches. MMR is rapidly spreading in practical research fields such as medical care, nursing, and education. 
This is the 3rd Asian Regional Conference of the Mixed Methods International Research Association (MMIRA), and the 5th Annual Conference of the Japan Society for Mixed Methods Research (JSMMR). It aims at sharing the knowledge required to develop, design, and construct MMR among the researchers and practitioners not only in Japan but also in Asian regions.
Distinguished speakers in the field of MMR will be invited to deliver keynote speeches, workshops, and presentations. We encourage researchers and practitioners in a variety of fields to join this conference!
Address: 

2-1-1 Chuo, Naka-ku, Hamamatsu, Shizuoka 430-8533 JAPAN
 Conference Theme
    "
Mixed Methods Research for Understanding and A
ccommodating the World of Complexity
"
   *There's a possibility that the program may be modified.
   *There's a possibility that the program may be modified.
September 14th, 2019 (Sat)

September 15th, 2019 (Sun)

September 16th, 2019 (Mon)



International Scholarship
This conference will provide scholarship programs to international scholars/students who need financial support to participate in the conference. Please refer to the following page for details.
Status

Members (JSMMR/MMIRA/Dual)

Members

(JSMMR/MMIRA/Dual)

International Scholars

with the conference

scholarship
The banquet fee will be 5,000 JPY per person.

Registration of the workshops will be accepted on a first-come, first-served basis.

There will be no refunds for cancellations.

Student discounts: Please contact the secretariat <secretary.jsmmr[at]gmail.com> by email before purchasing a ticket. Set the subject as "students discounts" and attach an image of your valid student ID, 

which you will be required to wear during the conference period (i.e., a face photo ID). Please be aware that we will not give you a student discount for the already purchased ticket at the regular price.
 Events
 Date & Time 

Event

Details 

Links for Registration

Registration Deadline
Main Conference &
Reception
Sep. 14 (Sat) 
   13:00 -
 Sep. 16 (Mon) 
   13:00

Aug. 23, 2019 (Fri) 23:59 JST (*1)
(*1) We will accept registration until just before the conference if space is available. However, participants registered after the date above may not be able to receive the conference abstracts and interpreting receivers at the reception.
Participant Organized Workshop
(No extra fee required, in English)
Sep. 16 (Mon)
 8:20-10:20


Sep. 6, 2019 (Fri) 23:59 JST 

(*2)
(*2) We will accept registration until just before the events 

if space is available

. However, participants registered after the date above may not be able to receive the handouts.

Preconference Workshops
(Registration fee required, in Japanese)
Sep. 14 (Sat) 
 9:00-12:00
Postconference Workshops
(Registration fee required, in English)
 Sep. 16 (Mon) 
 14:00-17:00
Open Seminar


(Free, in Japanese)

Sep. 16 (Mon) 
 14:00-16:00
MEET an EXPERT(ME)
(No extra charge required)
Sep. 16 (Mon) 9:00-10:00
 
Until all the places are taken


Michael D. Fetters (University of Michigan)
 Chair of the Organizing Committee
     Yoko Kawamura  (Shizuoka University of Art and Culture)
 Organizing Committee (tentative)
Michael D. Fetters (University of Michigan)
Michiko Abe (Cross-Culture Lab)
Miwako Fukuda (The Jikei University)
Taichi Hatta (Kyoto University)
Mitsuyuki Inaba (Ritsumeikan University)
Machiko Inoue (Hamamatsu University School of Medicine)
Hisako Kakai (Aoyama GakuinUniversity)
Tomoko Kamei (St.Luke's International University)
Yoko Kawamura (Shizuoka University of Art and Culture)
Sachiko Makabe (Akita University)
Keiichi Narita (Kyoto University)
Mayumi Nozaki (Juntendo University)
Toshiyuki Ojima (Hamamatsu University School of Medicine)
Chikako Ogawara (Tokyo Medical and Dental University)
Midori Shikano (Nanzan University)
Chihiro Tajima (Gakushuin Women's College)
 Organized-by:
The Mixed Methods International Research Association (MMIRA)
Japan Society for Mixed Methods Research (JSMMR)
 Supported-by:
Hamamatsu and Lake Hamana Tourism Bureau
---